Oil And Gas Industry Latest News

For the first time in over six months oil prices rose to $50 per barrel. Brent crude moved up to $50.19 during morning trading on May 26, the first time that it has hit that point since last November.
The gains add further momentum to a streak that has seen Brent and WTI gain more than 80 percent in value since touching lows in early February at $27 per barrel. For the past few weeks, oil prices bounced around a ceiling at $47 to $49 per barrel, sputtering and struggling to break through that key threshold.
But major supply outages in Canada from the wildfires around oil sands sites in Alberta knocked more than 1 million barrels per day of oil production offline for several weeks. Militant attacks on pipelines in Nigeria has disrupted an additional 800,000 barrels per day. U.S. oil production is down about 500,000 barrels per day since the start of the year, and outages from several Latin American oil producers have also contracted the supply overhang.
Mar 29, 2016
Brad L. Beago, CFA – President Agave Investment Partners and Cuentista Productions
I follow oil pretty closely given our exposure.  As such, I get frustrated with many press and news show accounts of the commodity.  It gets worse when the pundits and writers should know better.  Frequently inexact terminology leads to misconceptions and sometimes I see outright falsehoods that completely distort the truth.  As a former oil analyst and professional energy investor, I feel compelled to take those to task.  As a realist, I see that all markets require a difference of opinion and all investors talk their "book".  For this reason, when Jeff Currie at Goldman Sachs Commodities Group gets on CNBC and opines about future price movements, I give little notice.  Jeff is posturing for his customers' and GSs' positions.  Jeff can spin the story either way and chooses his statistics accordingly…That's what he is paid very well to do.  
Yesterday (March 28, 2016), I heard Dennis Gartman of the Gartman Letter, a trader and investor that I respect and have learned much from, spout an outright falsehood on CNBC.  Everyone can have a bad day, but I've been hearing various versions of this for months.  Dennis said in essence that oil prices could not rise very much because of "all the capped wells that could be brought on line very rapidly" He predicted no more than $42/bbl this year.  He estimated that at current strip pricing, you could lock in $45/bbl in 12 months, making large numbers of these "capped" wells profitable. The implication being that at current prices, the market would be rapidly flooded with new oil. Continue reading →
NEW YORK | By Barani Krishnan
NEW YORK Oil prices hit 2016 highs on Thursday, with U.S. crude surging 5 percent to pierce the $40 barrier, on optimism that major producers will strike an output freeze deal next month amid rising crude exports and gasoline demand in the United States.
A weaker dollar .DXY after a Federal Reserve policy decision on Wednesday that indicated two U.S. rate hikes this year instead of four also drew oil buyers using currencies such as the euro EUR=. [FRX]
OPEC kingpin Saudi Arabia and non-OPEC producers led by Russia will meet on April 17 in the Qatar capital Doha, aiming for the first global supply deal in 15 years.
"The remote possibility that a coordinated supply control effort comes from this meeting, assuming it even happens, has put market bears on the defensive," said Pete Donovan, broker with Liquidity Energy in New York.
Oil prices have surged more than 50 percent from 12-year lows since the Organization of the Petroleum Exporting Countries floated the idea of a production freeze, boosting Brent up from around $27 a barrel and U.S. crude from around $26.
BY HUILENG TAN, CNBC
Predictions of an oil rally to $50 a barrel has markets excited, but a top oil analyst cautions that the commodity hasn't done rebalancing yet.
Oil prices jumped on Monday, with global benchmark Brent crude breaking above the vital $40-a-barrel level, a 50 percent price rise from January when prices hit a near 13-year low.
Prices were buoyed by reports that Latin American crude producers would meet this Friday in Ecuador, sparking hopes of price-supportive measures.
Oil Prices Could Jump 50% by the End of 2016
by: Ben Sharples – Updated on
Oil bulls distressed that last week's rally fizzled can find some comfort in forecasts for a bigger and longer rebound by the end of the year.
Analysts are projecting prices will climb more than $15 by the end of 2016. New York crude will reach $46 a barrel during the fourth quarter, while Brent in London will trade at $48 in the same period, the median of 17 estimates compiled by Bloomberg this year show. A global surplus that fueled oil's decline to a 12-year low will shift to deficit as U.S. shale output falls, according to Goldman Sachs Group Inc.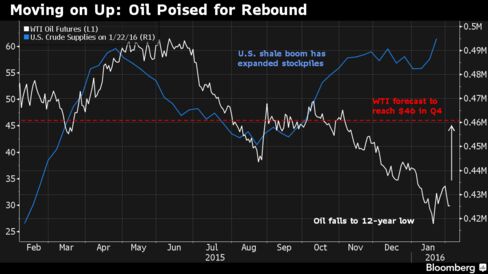 Chesapeake Founder Tom Ward Says $30 Oil `A Good Time to Get In'
By Asjylyn Loder on February 2, 2016 — 9:52 AM MST
With oil hovering around $30 a barrel and natural gas mired in a six-year slump, Tom Ward, a former executive for two Oklahoma City shale pioneers, thinks about what went wrong.
It's unavoidable in this town. The state legislative session opened Feb. 1, and top of its agenda is dealing with a $900 million budget hole, a byproduct of falling oil and gas revenue. Chesapeake Energy Corp., which Ward co-founded with Aubrey McClendon, has seen its stock fall 85 percent in the past year. SandRidge Energy Inc., which he ran from 2006 until shareholders forced him out in 2013, has been delisted from the New York Stock Exchange and recently hired advisers to consider "alternatives," a move some view as a prelude to bankruptcy.
"The world is upside-down," Ward said. "The world doesn't make sense at $30 oil or $40 oil or even $50 oil. Our industry is bankrupt at $30 oil." Read more…
Oil Prices Hit 3-Week High Amid OPEC, Non-OPEC Chatter
Oil prices rose toward $34/bbl. early Thursday, amid growing chatter about the possibility of OPEC and non-OPEC producers meeting to discuss cutting production levels to support prices. Later Thursday morning, Brent hit $35/bbl. after the Russian Energy Minister said Saudi Arabia had proposed cutting oil output by up to 5% by each country in order to bolster oil prices.
Early Thursday, Brent was up $0.34 at $33.44/bbl. by 7:51 a.m. EST, after gaining 4.1% in the previous session. A session high Wednesday of $33.99/bbl. was the global benchmark's highest level since January 8. Brent was about $6 higher than the 12-year low set this earlier this month, but it's still down approximately 10.5% in January following a 16% drop in December. Meanwhile, WTI was up $0.04 to $32.34/bbl., after settling the previous session up $0.85, representing a gain of 2.7%
On Thursday, Russian Energy Minister Alexander Novak said it was reasonable for producers to discuss the current state of the oversupplied oil market and that OPEC was attempting to organize a meeting with non-members in February.
And the head of Russia's pipeline monopoly told CNBC Wednesday that Russia and other countries hit hard by low oil prices should talk to Saudi Arabia and other OPEC countries about production cuts to raise oil prices.
Oil trader who predicted the decline says price has bottomed
By SIMONE FOXMAN on 1/22/2016
LONDON (Bloomberg) — Pierre Andurand, the founder of the $615 million Andurand Capital Management who correctly predicted the slump in oil prices, said the commodity has probably hit bottom and will end the year higher.
The price of oil will probably rise to $50/bbl this year and $70/bbl in 2017, though investors should expect heightened volatility along the way, he said Friday in an interview on Bloomberg TV.
"We are in a world where we see very low prices followed by very high prices," Andurand said in the interview. "I actually think it has bottomed."
Andurand's hedge fund made 8% in 2015 and 38% in 2014, chiefly on wagers that oil would fall. As recently as December, he predicted that oil could touch $25/bbl this quarter. West Texas Intermediate fell as low as $26.19 on Jan. 20, before rebounding 20% to $31.56 at 11:56 a.m. in New York.
"There is very little spare capacity in the system," he said, citing declines in production that began three months ago in countries that aren't members of the Organization of Petroleum Exporting Countries.
Andurand's previous hedge fund, BlueGold Capital, which managed about $2.2 billion at its peak, had generated a 240% return over four years. That fund closed in 2012 after losses the year before.
The Coming Oil Rebound
Oil prices will rise again, writes Mark Mills in today's Wall Street Journal. "Even with China's economy slowing, global oil use will still rise by 1.3 million barrels a day this year—equal to the peak daily output of the entire Bakken Shale field. Middle-class automobile ownership in Asia is rising steadily, from today's average of 60 to 80 cars per 1,000 residents toward the West's 600 to 800 cars. All the fundamentals point to growing demand for oil," writes Mr. Mills.
OPEC sees the average price of its crude oil rising to $80/bbl. by 2020 as non-member supply grows more slowly than previously expected.
Non-OPEC production will be 58.2 M/bpd in 2017. That's 1 M/bpd lower than previously forecast, according to an OPEC internal research report seen by Bloomberg News.
According to the report, while OPEC forecasts little stimulus to demand in the medium term as a consequence of cheaper oil, it sees the average price of its crude rising by approximately $5 per year to 2020 from $55 this year.
Bloomberg cited the report as saying that the effect of current low oil prices is "most apparent on tight oil, which is more price reactive than other liquids sources." Further, "Supply reductions in US and Canada from 2014-2016 are clearly revealed." Continue reading…

 
By Javier Blas – 7/21/2015
THE OIL GURU WHO PREDICTED LAST YEAR'S ROUT SAID $100-A-BARREL CRUDE IS LIKELY TO RETURN WITHIN FIVE YEARS AS FALTERING SUPPLY FAILS TO MEET DEMAND.
Gary Ross, the founder of consultants PIRA Energy Group, said oil markets aren't nearly as oversupplied as many believe and spare capacity is tight since Saudi Arabia is pumping all the crude it can without new drilling.
"Current prices are unsustainable," he said Monday in an interview in London. "It's hard not to see oil hitting $100 a barrel at some point in the next five years."
The forecast from Ross, who last year turned bearish on oil before prices shrank by half, is at odds with other analysts and investors bracing for "lower for longer" prices, a term coined by BP Plc Chief Executive Officer Bob Dudley. Saudi Oil Minister Ali Al Naimi said in December the world may not see $100 crude again, while the International Energy Agency has described the markets as "massively oversupplied." Continue reading →

CRUDE OIL GAINS ON SPECULATION INVENTORIES FELL FOR EIGHTH WEEK
by Moming Zhou
June 22, 2015 — 3:29 AM EDT Updated on June 22, 2015 — 3:15 PM EDT
Crude oil rose on speculation U.S. inventories fell for an eighth week, the longest stretch of declines in seven years.
Crude stockpiles decreased by 1.5 million barrels in the week ended June 19, according to a Bloomberg survey before Wednesday's government report. Prices also gained amid optimism Greece's debt crisis will be resolved.
"We are looking ahead to the inventory report already," said John Kilduff, a partner at Again Capital LLC, a New York-based hedge fund that focuses on energy. "We have a good economy ahead and it's not going to be upset by a Greek default. It's a macro play at the moment." Continue reading →